December 31, 2021
No Comments
It's Not Just Business, It's Personal
Do you remember 2007? It wasn't that long ago. That was the year hundreds of thousands of pet food products were found to be tainted with chemicals that caused kidney failure among dogs, cats, puppies and kittens. And it was the same year that every major toy manufacturer recalled child, toddler, and baby toys for dangerous amounts of lead–lead that can cause brain damage and developmental disorders among the most vulnerable in our population.
If you don't remember it, it's because the Chinese Communist Party and Corporate America spent the next few years doing a master class on public relations and propaganda. It was one of the biggest crimes against the American people–surpassed only by what the CCP's negligence would inflict upon this country in 2020. And it's been completely forgotten.
The important question you need to ask is–were the root causes of what resulted in the fiasco of 2007 ever fixed? The US Congress passed all kinds of laws regulating pet food, but none of them were enforced. US pet food and toy manufacturers spent a couple years plastering "Made in the USA" on their boxes–but with each passing year you see them going back to China like dogs returning to their vomit.
And somehow, China manufacturers still manage to be the "lowest bidders" when it comes to manufacturing. How is this possible? You can bet it's because they continue to use slave labor and to cut as many corners as possible with safety testing, worker's rights, and environmental protection. And they make sweet deals to ensure that even if an emerging economy is able to compete, that they'll always have the upper hand.
You'll see China apologists on Twitter talking about how wonderful China manufacturing is and you won't see any counterpoints. That's because anyone who dares to be a whistleblower in China is immediately imprisoned or executed. And unfortunately, many of our fellow consumers only hear the propaganda. But if they would just take a little time to listen, it's the silence that speaks louder than anything.
That the USA did not pull 100% of its manufacturing out of China in the aftermath of 2007 shows you the extent to which corporate greed has taken over our companies. Shame on both the Bush and Obama administrations for turning a blind eye to it and encouraging US industry to double-down on moving to China.
And so if our corporations and our politicians put their head in the sand, it's up to us consumers to step up. And we need to take it personally. In 2007, we were attacked. And not just us, but the most vulnerable among us–our pets and our babies, all of whom are defenseless and rely on us to protect them. We failed at every level–our politicians, our corporations, and we, the consumers.
And so when we talk about avoiding products made in China, it goes beyond product safety. It's about sending a message to American corporations, politicians, and the Chinese Communist Party. You may not care about our babies, but we do. And we don't want our babies growing up in a world where you will be allowed to continue to spread your poison, both literal and figurative.
Where to find Baby Clothes not made in China
Baby clothes was one of the first industries to completely abandon local manufacturing and move to China. Why? Well, it's only natural. Babies grow out of baby clothes quickly, so it's hard especially for a struggling family to buy expensive baby clothes. For many struggling families, globalization helped usher in an era where they could afford the same luxuries that only the wealthy once could. And that's not a bad thing. The bad thing is how one country found a way to monopolize the supply chain to ensure that we the American consumer was funding their ability to one day crush us.
So if you're in this situation, what can you do? There are lots of practical things. First, look at the label. Thanks to tariffs that President Trump put in place in 2018 and which President Biden continues, you may find a surprising amount of baby clothes made outside of China.

You can also do what we did–reach out to friends who have slightly older children and ask if they'd be willing to let you have some of their old baby clothes. Chances are they'll have plenty of great outfits that were worn only once or twice that they'd be more than happy to give you. And when our child has grown out of it, we take the clothes that are still like new and give them to other families.

Also, check out Etsy and Ebay (although double-check the country of origin with the seller before buying). You'll find amazing bargains of clothes that are only slightly used or even brand new.

And if you do want to buy brand new clothes, happily, there is a healthy base of baby clothes manufacturers right here in the USA, and they're making clothes that are not only more stylish than the cookie-cutter mass-produced China junk you'll find at Carters, they're also surprisingly affordable.
If it sounds like I'm picking on Carters, it's because, well, they deserve it. The control 24% of the market for children's and baby's clothes. They have the power to send a message to China, and yet their only message is to China-controlled state media that they are "happy". Think of all the babies that have been aborted and drowned over the decades of CCP control. Think of the babies who have lost parents to re-education camps and labor camps. Think of the babies that grew up since 2007 with long-term effects of lead poisoning. Think of the babies who were never born because of the forced sterilization of women. What kind of a message is that?

How I came up with this list
I use different methods to come up with the different "best of" lists. Usually, I'll look at best seller lists on major retailers and weed out the made in China ones, or I'll look at a consumer review site like Consumer Reports or Wirecutter and do the same. In this case, I turned to Google and looked for what they felt were the best baby clothes made in the USA. About 50% of their results were completely wrong, but I went through and picked out the ones that were spot on. These are the sites that people are talking about.

As always, if you know of other baby clothes manufacturers not listed here, either in the US or any other country other than China, please feel free to put them in the comments!
I love that Two Crows for Joy's About Us page comes out and says "We strongly believe that America needs to recapture its manufacturing, so that our children will have jobs and grow up in a prosperous country with ample opportunities". It's a far cry from the big behemoth corporations with pages and pages of "sustainability" and "responsible corporate citizenship" pages that are as worthless as the paper they're not written on.
And to be honest, it's going to be up to small businesses to fix things. I've worked in corporate America for over 25 years, and one thing that's clear is that the solution will not come from them–to the contrary, they are the cause of the problem. Companies like Carter and Amazon have shareholders that don't see past the balance sheet–if their stock price goes up, they don't care how it got there. Slave labor? Child labor? As long as you beat last quarter's profits, we don't ask questions.
Two Crows for Joy is part of Adooka Organics. a company that was started by two women, Anne and Shannon, in 2009. You'll see a recurring theme among some of the small businesses I'm going to highlight here–in the aftermath of 2007, most Americans got outraged at China's egregious record around safety–and then completely forgot about their outrage immediately the next time they saw something cheap at Walmart.

But a few very special Americans got the message and decided to do something about it. Anne and Shannon created this amazing company where they do everything themselves. They develop new styles, source their own fabrics, and they oversee the manufacturing of their clothes out of a factory in Philadelphia. Embroidery is done by a family-run company that's been in Pennsylvania since 1964. And sewing also also done by a small shop in Philadelphia run by a mother-daughter team.
The designs are oh-so-adorable and quite meaningful. One of my favorites is the New York onesie you see pictured here, designed in Brooklyn and picturing everything that makes New York New York, from the Statue of Liberty to the friendly rats. Their rompers are also beautiful. colorful, and adorable, as are their dresses, pants, and blankets.
I'll be blunt–if you're used to buying mass-produced baby clothes at Target for $5 a pop, the prices at Two Crows for Joy may give you a little sticker shock. But the phrase "you get what you pay for" has never been more apropos. You'll get clothes that have never seen the inside of a dirty China factory and not one dollar of what you pay will go to support tyranny.
I'm not suggesting you go out and buy dozens of $29 onesies (unless you can afford it). On the other hand, if you're shopping for that special friend, relative, daughter, or grand-daughter, one unique Two Crows for Joy onesie will mean more to them than 10 cheap Carter's onesies that everyone already has. And these are the kinds of clothes that will last and which you'll be proud to pass down to siblings or other family and friends.

All USA Clothing is an aggregator of many USA brands such as Carhartt, New Balance, Weinbrenner/Thorogood, Camber, King Louie America, Union Line, Wigwam and others.
What's nice about shopping on their site is that you can be assured that everything in made in the US; you won't find nonsense like 'proudly designed in California and made in China' here. What's also very nice is that it looks like they do make an effort to sell clothing that's affordable and competitive in price with imports.
They don't have a huge selection–their selection of baby clothes and toddler clothes are both under 20 items each. But the clothes look very affordable and very practical.
Lucy and Leo was founded in New York around 2009, around the same time as Adooka Organics above. The motivation was the same–Beny Wu, the company's founder, saw his little cousin Lucy born and was horrified at the thought of this delicate little baby wearing traditional baby clothes that were full of harsh chemicals. Most of us don't stop to think that while cotton makes up only 3% of the farmed land area, it accounts for more than 25% of the insecticides and 10% of the pesticides used worldwide. Most of us put on cotton clothes without thinking twice, but to an infant's delicate skin (which absorbs 20-30% more than adult skin), it's a different story.
Lucy & Leo's entire supply chain is based in the USA. Their clothing is designed in Philadelphia and New York, and their patterns are made in a factory in Long Island, New York using fabric from certified organic factories in the USA and Japan.
Their baby clothes are stunningly gorgeous, even nicer than the top designer brands. They aren't cheap, but if you have the means to pay for a little bit more, you'll get what you pay for. Truly unique and stunning beautiful designer clothes that you can rest assured is 100% safe for your baby.
And again, even if you don't end up buying dozens of these, consider buying a few to give as gifts. Your recipient will cherish your gift and the thought that went behind it, knowing that you went the extra mile to make sure you want to protect the most precious thing in their lives as much as they do.
Every product on Tenth&Pine's site reads "At Tenth & Pine® we are committed to manufacturing in USA, using certified organic, sustainable, eco-friendly materials.".
That's cool. What's also cool is the selection of fun, whimsical, and hilarious words on each onesie, romper, and T-shirt. Tenth&Pine has a similar origin story as the other brands above. It was founded in 2016 by Kerynn Molnar after her first daughter was born after 10 years of battling infertility and being given a less than 1% chance of ever conceiving naturally.
Kerynn used her business background to create a company that uses the highest quality GOTS (Global Organic Textile Standard) certified organic materials. As with the brands above, she chose organic because it's eco-friendly, farmed without use of harsh chemicals, and thus safest for baby.
All Tenth&Pine outfits are made in the USA, working with factories that share their core values. And unlike big corporations that use sweatshop labor, their clothes are produce by employees making a livable wage (in Los Angeles, California no less) and comfortable working conditions. What a lesson to teach your baby from her very first moments.
You know what I'm going to say next–at prices starting at $30, it's more than you might pay for some mass produced item from China. But this is where you need to reframe your thinking. Is buying an outfit that you know is 100% safe for your baby worth more or less than three coffees at Starbucks?
You can check out a selection of Tenth & Pine products on their Amazon store, or visit their Web site for the full catalog.
Over 15 years ago Gwen Gardner was diagnosed with breast cancer the same week she found she was pregnant with her little girl. Happily, she beat the cancer and gave birth to a healthy baby girl. In the process of fighting cancer and becoming responsible for her daughter she learned how to take care of herself in all aspects, from what she ate to what she put on her body. That's when she learned of how cotton is one of the most polluting crops there are–and ways she could keep her newborn daughter safe.
Gwen was one of the earliest to start her company focused on organic cotton, two years before the 2007 fiasco toys opened everyone's eyes to how lax China safety and quality control record is. In the years since, it's only gotten worse. As China and the US brands that use them look the other way, we hear horror stories about how cotton is harvested in the Xinjiang region by forced labor camps of Uyghur Muslim being punished for their religion. And we can only imagine the pesticides and insecticides that go into growing the cotton they use.
Simply Chickie has among the cutest and most hilarious baby clothes designs I've seen of any vendor. The blanket design you see here made me laugh out loud, and there are many others. Check them out on Amazon or on their own Web site.
PAIGELAUREN was founded by Paige Lauren (no relation to Ralph). Paige formed the company when she got frustrated trying to find simple, classic baby clothes for her friends, but could only find over-designed clothes. If you look through her clothes, you'll see that her designs are devoid of gimmicks or pop-culture kitsch. They're simple, timeless, and luxurious–the one word I see over and over again from people talking about Paige's products is "soft".
Her products are carried in independent shops around the country, as well as Neiman Marcus. And of course you can purchase on paigelauren.com.
As with the other brands above, all of her baby clothes are made from organic fabrics, and use low impact organic dyes. She uses organic Supima cotton or Micromodal cotton for unparalleled luxury and softness. And because the cotton is produced in the USA, it's milled without toxic pesticides and using advanced techniques that reduce water usage and improves sustainability and a healthier environment.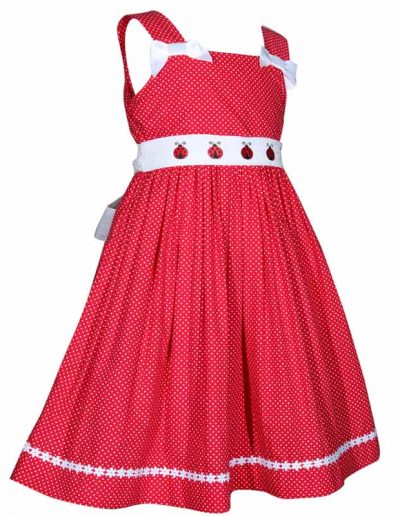 Treasure Box Kids began in 2006 selling name brand clothing on eBay and Amazon. It was around that time that they noticed that the quality of the fabric and workmanship of the name brands they carried were going downhill.
Since 2015, they've been making their own clothes in the USA out of central Florida. They don't shy away from speaking up against the "fast fashion" trend that's resulted in a decline of quality of clothes, as well as questionable labor practices and environmental practices.
Their site has some amazingly beautiful and bright, colorful designs that are perfect for special occasions and birthday parties.
I did notice that their site hasn't been updated very frequently in recent years, and a lot of baby dresses and clothes appear to be out of stock of this writing. Check out their designs and if you like one, buy it right away. We need to support companies like this that are fighting an uphill battle to compete with big labels that achieve their low prices at great costs to human rights and the environment–costs that most consumers never see.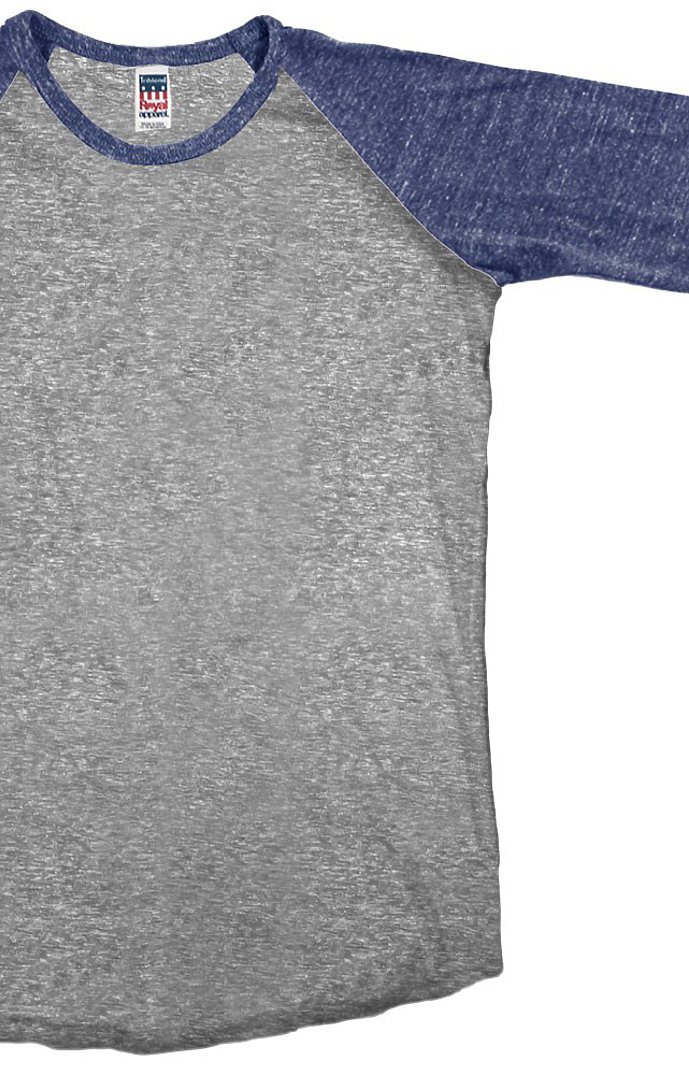 Royal Apparel was launched in the Garment District in New York City in the early 1990s with a mission for USA fashion. By the end of the decade, they witnessed nearly all of the fashion industry moving its production overseas. Royal Apparel stuck to its made in the USA mission and never left. Today, only 3% of fashion is still made in the USA, and Royal Apparel is part of that number.
Today, Royal Apparel is headquartered in Long Island and maintains production facilities in Pennsylvania. They produce adult clothing for women and men, but also produce clothes for babies, toddlers, and youth. Their infant and baby clothes are produced using 100% certified organic cotton. And unlike most fashion retailer sites, you don't have to hunt and peck to find one needle in a haystack that's made in the USA.
Among their styles you'll find a lot of the "basics", including sweatpants, T-shirts, onesies, and hoodies for babies and toddlers. They're simple and yet timeless in terms of style. And you can't beat the quality of the manufacturing and the fabric, not even to mention the great feeling that everything was produced here in the United States, and not one penny you pay is going to support tyranny.
The Tot is a neat retail site that was designed to give parents the very information that other online retailers like Amazon, Walmart, and Target go out of their way to avoid giving. Like those sites, The Tot is a retailer that sells products from multiple manufacturers.
But unlike those sites, they don't just let any seller or manufacturer in. To the contrary, they carefully curate only vendors (ranging from small family run businesses to big brands) that have a proven record of high quality and safety.
Furthermore, they test every product that they sell and in full transparency put the results of the test on every product page. For every product, they test for things like whether the clothing contains traces of lead or heavy metals; whether the clothing has traces of formaldehyde; whether the product is BPA/BPS and PVC free, and more.
Even better, in most cases they are transparent with the country of origin. I'm seeing products that are made in India, in Peru, and even in the UK. Country of origin is not on every product (and where it's missing, you can probably guess where the product is made), but it's on enough products that I feel good about giving this endorsement. You'll have access to dozens of amazing small brands that you otherwise might not have paid attention to.
Finn + Emma make a wide variety of clothes, toys, gifts, and accessories for babies, toddlers, and kids. I was pleasantly surprised to see the phrase "ethically made in India" on virtually all of the pajamas, bodysuits, rompers, dresses, and pants I looked at. Even toys are either made in India or Peru. Their organic cotton fabric and yarns are all GOTS certified.
You'll probably want to steer clear of any product that doesn't mention country of origin, which includes a lot of their larger gear and toys. While I can't find any evidence that these are made in China, I have a feeling that if it were made anywhere but China they'd say so.
Finn + Emma has an impressive roster of celebrity customers and have been featured in every major parenting magazine you can think of. Again, their prices are higher if your brain has gotten used to thinking of $5 onesies at Kmart as "normal". But when you consider the benefits of 100% GOTS organic cotton and helping support growing economies in a place other than China, the benefits easily outweigh the costs.
City Threads is based in Los Angeles, California and like Finn + Emma have attracted celebrities from Reese Witherspoon to Angelina Jolie and Jennifer Aniston. It was founded in 2002 by Joe Willis and Shayna Samuels. As they approach their 20th anniversary, they're certainly the brand that's stood the test of time.
You can find their clothes on Amazon or on their own Web site.
They're most famous for their boy's clothes, but carry a large selection for babies, toddlers, and children up to 14 years old. Their fabrics are all free from harsh chemicals and carefully sourced for softness and the highest quality that doesn't warp or shrink after many washes. And all of their clothes are made in the USA.
The pricing is surprisingly affordable, especially when compared to some of the other brands listed on this page. That's a testament to their popularity over time. Big clothing manufacturers who move their production out of the USA also take with them the economies of scale that help keep prices low. Happily, it seems that City Threads has achieved that popularity with its own products. Over 10,000 happy customers have rated them almost a perfect 5 out of 5 stars.
Last but not least is Winter Water Factory, a company based out of Brooklyn, New York, founded by Stefanie Lynen and Todd Warnock around 2005. They specialize in screen printed textiles and organic kids' clothing. Look through their Amazon store or their Web site and you'll see some of the most imaginative screen printed designs anywhere, sure to thrill baby and engage their imagination.
As most of the other brands on this page do, Winter Water Factory emphasizes the use of organic cotton as safest for baby's delicate skin and much less toxic to the environment than regular cotton, widely considered the world's dirtiest crop.
All of their production happens in the United States, within a few blocks of the Sunset Park neighborhood of Brooklyn. New York, of course, used to be the poster child for inhumane, sweatshop conditions for workers. Now, thanks to United States labor laws and self-enforcement of responsible business practices everyone who works there earns a livable wage and works in fair working conditions. Do you believe the same to be true of subcontractors in China who provided the lowest bids to corporations like Carters and Baby Gap?
All of these brands are successful because they appeal to parents who value some things more than simply finding the absolute cheapest product they can buy for their babies. But granted, not everyone can afford them, especially when buying for everyday use. It's promising to see that there are many products from Burts Bees Baby and Gerber Baby that are moving production to India–you won't get the benefits of 100% organic GOTS cotton, but at the very least you won't be supporting tyranny with your purchase.

When on Amazon, avoid brands like Hudson Baby and fake brands like VAENAIT like the plague.
That said, I did come across a brand called AVAUMA on Amazon that at first I was sure was a fake China brand, but it looks like it's a legitimate brand out of South Korea that manufactures its clothes in Korea.
That's a good reminder to always be discerning when on Amazon. You'll want to look for country of origin in the product listing and if it gives a specific country rather than something vague like "Imported" or "Designed in the USA", it's worth your time.
Do you know of other baby clothes companies worthy of mention here? Let us know in the comments!